Did you see the queue at the buffet?
Choosing a catering option for corporate events is always a challenge. The reliable cheese-and-wine reception, while straightforward, leaves attendees feeling they haven't had a real meal at all. Traditional buffet-style meals offer more variety and quantity. However, they often result in a queue in front of tables of catering equipment that seem to be designed to keep food tepid and soggy.

Neither option makes for appetizing food, or promotes a jovial atmosphere. When corporate attendee lists stretch into the hundreds, the logistics of having a successful and enjoyable event become daunting.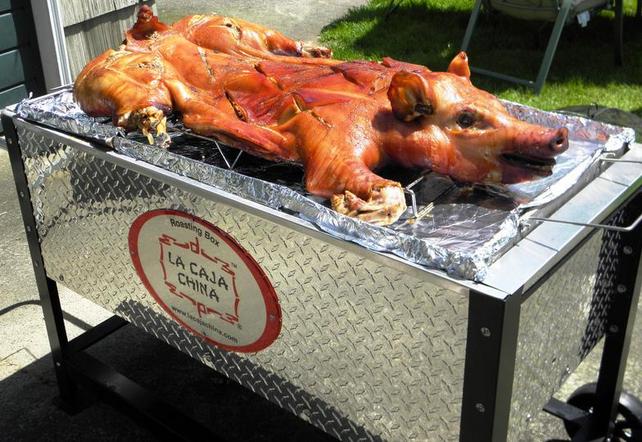 The hog roast is a method of cooking for a crowd in which a pig is cooked over several hours. It is then served to the onlooking party-goers. It is a long tradition in many cultures, with a variety of preparation techniques. In Hawaii, pits are lined with banana leaves and heated volcanic stones before the pig is lowered in. In China, the hog roast has already found its place as a go-to for corporate events. The associated good luck makes the hog roast a favorite at gatherings for business openings in Southern China. The hog roast was even a hit in Saxon Britain, where it was a Yuletide favorite.
Invite a hog to your office party?
This old tradition is getting an update in the East Midlands. Here, hog roasts are rising in popularity as a choice for corporate events. The Roasting Pig is one catering company that offers the essential hog, pre-marinated in cider. They also provide chicken, lamb, beef, and a variety of salads and other side dishes for the less pork-inclined amongst us. To find out whether they serve your area, view their hog roast coverage throughout the Midlands.

The hog roast is both spectacle and feast. It allows the preparation and serving of the food to be an event in and of itself. It also feeds potentially hundreds of guests. Sides and plates/utensils are easily transported, and the main course is freshly prepared onsite. A small team prepares and serves a delicious meal to a large event in one convenient package. There is also the option to rent the roasting equipment and purchase the pig and other food for a more do-it-yourself experience.

With possibilities ranging from backyard, family-style cookouts to large-scale corporate feasts, it seems like a good time to ditch the cheese and wine and go the whole hog!